by Federica Sona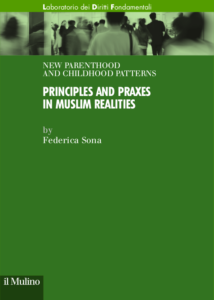 Within the framework of a broader discourse on bioethics, the volume investigates the Muslim prospective parents' right to a private family life as enacted within the boundaries of Islamic provisions, on the one hand, and Italian domestic law, on the other. Scrutinising the potential or actual implementation of Islamically compliant remedies to involuntary childlessness, the idea of parenthood and childhood within local Muslim communities is brought into focus. Alternative routes to parenting and creative forms of filiation are also explored in view of current interpretations of sharīʿah, as favoured by Muslim prospective fathers and mothers.
Against the backdrop of the progressive pluralisation of parenthood and childhood patterns, reproductive and procreative technologies (i.e. ARTs and MAPs) are to be specifically taken into consideration; fertility treatments can indeed be supported, accommodated, or rejected by Islamic scholars and national legal systems. Coexisting partially overlapping legal systems and normative orders thus eventually affect the agency of Muslim intended parents as well as healthcare professionals providing  reproductive and biotechnological medical treatments.
Carefully examining the relationships between fertility centres' personnel and prospective Muslim parents, the study documents and evaluates healthcare providers' perceptions and Muslim patients' distinct – sometimes unspoken – specificities in Italy, where fertility clinics' staff members are required to manage increasingly diverse and international patients. Relying upon scholarly and legal documents, empirical investigations and in-depth analysis of field-collected qualitative and quantitative data, the volume offers decoding tools for academic purposes as well as for healthcare providers and religious scholars, who are coping with plural kinship frameworks on a daily basis. Paying specific attention to principles and praxes as understood and implemented in local Muslim realities, light is also shed on possibly partially concealed "old-new" kindred dynamics leading to imaginative family constellations.
[
errata corrige
]
Short biography
Federica Sona is a Senior Researcher at the Department 'Law & Anthropology' of the Max Planck Institute for Social Anthropology (Halle/Saale, Germany). Dr Sona's academic qualification include a Laurea in Law, a PGSC in Intercultural Communication and Mediation, a MA in International and Comparative Legal Studies, an International PhD in Law and Society, and a PhD in Law. Her academic work focuses on European Islām-s interacting with different, domestic and transnational, legal systems and normative orders, paying specific attention to family-related issues. Dr Sona is currently involved as coordinator and teacher in the European Judicial Training Network, and she has lectured in a number of European universities. Since early 2000, she has also been acting as expert and advocate providing legal assistance and advice in proceedings involving Muslim parties and Muslim-majority countries' nationals settled in Italy and Great Britain.
Errata corrige
-> Page 46, Section 1
[…] Whereas a child born as result of the application of MAR immediately acquires the status of either legitimate or recognised child, children born to non-married cohabiting partners not relying upon MAP are not automatically recognised. […] -> Page 48, Section 2
[…] Furthermore, it should be stressed that medical staff and health care ancillary operators are not required to take part in MAP procedures in the case of conscientious objection that has been previously  notified to the hospital or clinic (art. 16). […] -> Page 113, Section 7.2
[…] Building upon Islamic rules preserving Muslim women's modesty and prohibiting the exposure of bodily parts to marriageable (non-maḥārim) people, female healthcare practitioners are therefore to be favoured by Muslim patients. […]